We have over 2000 member households and represent over 60% of the residential properties in Spring Park.
Each month we publish a quality colour magazine containing local information, activities and events and this is distributed free to each member household by a dedicated network of over 80 road stewards.
An Annual General Meeting (AGM) shall be held each year in May, or as soon as possible thereafter and no later than the end of July, when Officers and members of the Executive Committee are elected by the members of the Association.
The area covered by Spring Park Residents' Association is shown on the map below.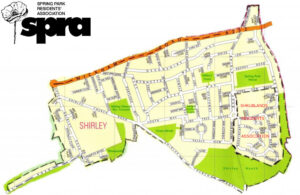 Membership is open to anyone living in the area on payment of the annual subscription, currently £6 per household, per annum. Associate Membership is available to anyone else but carries no voting rights.
To become a member please contact our membership secretary: sprams@btinternet.com